Anyone who has the responsibility of sitting behind the steering wheel – or spends their working day (or night!) on the move – then we're here to help with any Transport Industry Uniform requirements you may have.
Whether you are a:
Bus or Coach Company
Train and Rail Services
Taxi Firm
Haulage Company
Courier Company
Services and Maintenance Supplier
There are many different sectors within the Transport Industry, all of which have different uniform requirements.  We can be your one stop source for all your team!  We have access to thousands of clothing garments from all the main suppliers, plus loads of the well-known brands.  We can hold them in stock for you, ready to call off as and when you need.
Whether you're a traditional suit, shirt and tie establishment, or simply polo shirts and jackets, we've got it covered.
Layering is the key here!  So clothing for warm weather, but with a waterproof to hand is essential.  Have a browse through our Jackets collection, or Soft Shells are a great showerproof item too.
Click on an image below to view a range of garments available, but there's still tons more available if you don't see anything you like.  Our Flickable Brochure sections are a great place to start for inspiration.
Better still, give us a call on 01202 473311 and we'd be more than happy to help get you on the right road.
We're helping lots of transport companies with their uniform requirements – read all about South West Trains and North Dorset Travel:
South West Trains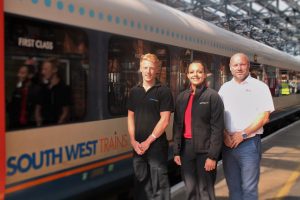 We were recently approached by South West Trains to supply their Engineering Apprenticeships with brand new uniforms.  On the lookout for robust yet smart and presentable uniforms, our experienced team was on the right tracks for supplying their bright new sparks with Polo Shirts, Trousers, Tops, Sweatshirts and Soft Shell Jackets.
With quality being a key factor, South West Trains needed uniforms which were hard wearing to survive the rigours of engineering, plus all the frequent washing, yet still look incredibly presentable and appear as new – with over 20 years' experience in the industry, our team knew just the garments which would get the green light.
We invited South West Trains to visit our showroom so they could actually touch, feel and try-on the clothing before ordering, plus view the huge range of garments available and then agree on the best items for their needs.
With our in-house embroidery and print service, deliveries to multi-site organisations, personalised online ordering shops, storage facilities and an experienced and friendly team, South West Trains were hard pushed to even look elsewhere!
North Dorset Travel
We recently helped out North Dorset Travel with new Uniforms for their drivers and staff, and they were incredibly chuffed with the service and garments they received.  Take a read of their testimonial here:
"Can I please say a huge thank you on behalf of us all here at North Dorset Travel. We are very impressed with your product knowledge and how you understood exactly what we were looking for. Our suits are fantastic and the embroidery looks great on our shirts too. We still can't believe how you were a lot cheaper than everyone else.
The embroidery set up fees were minimal too! Thank you as well for popping in and seeing us once the uniform was delivered. From start to finish we were kept informed and it's nice to have someone who cares about the after sales as well. Looking forward to ordering more high quality uniform from you soon. Many thanks again."