Production, Storage & Fulfilment
To really benefit from the low prices available from overseas factories, the volumes required are usually over 1,000 items (although this is not a minimum order requirement). For bulk orders like these, storage and fulfilment is often a problem for many of our clients. Due to our capability of stock management and warehouse facility, we offer a 'Call-Off' service for many of our clients. The service we offer includes dealing with the logistical issues of importing such as customs, taking delivery, holding stock for an agreed period and then delivering in manageable quantities or split location deliveries.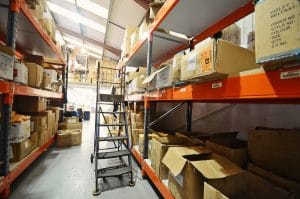 Full management and monitoring of stock is an invaluable service for many of our clients. Holding stock enables us to manage Quality Control procedures in-house. Of course, every measure of Quality Control is also taken at source including periodic sampling and factory visits.
Upon request, we can ensure delivery of non-branded stock to any UK destination within 2 – 3 days, or any European destination within 5 – 9 days by courier – just one advantage of holding stock.
We carry out all embroidery in house. We have 4 industrial embroidery machines that are capable of over 1500 logos per day if required. ISO9001, Quality Management and Procedures accreditation, ensures that every order flows through production as quickly and efficiently as possible, with the same care and attention as the last. All logos are signed off by our customers before we commence with embroidery or print.
Leisure Essentials range
Holding our own stock of towels, tracksuit bottoms, shorts, drawstring bags, rucksacks, padlocks, headphones amongst other items, means that we can react quickly to urgent client requirements. It also means that we can service clients that do not want overseas manufacture, or do not have sufficient lead-time, with bulk orders. Many of our clients in the Leisure Industry simply place repeat orders for our Leisure Essentials Range which can either be sent plain within days, or similarly, sent embroidered or printed within agreed timeframes. Our Leisure Essentials range is monitored and continuously stocked and re-ordered.
To discuss your requirements, future projects or to arrange a consultation meeting, please call 01202 473311.