Back in 1993, James Taylor, the founder and managing director of the company started printing t-shirts for local companies and schools. This soon progressed to larger organisations and when Hill House School, part of the Hesley Goup at that time, started using the services of the young company it gave James the platform to strive for greater things. Hill House School, which is now owned by Cambian Group, is one of the company's many loyal clients.
From then on, here at TMD, we have continued to specialise in the provision of high quality embroidered and printed uniforms and are now one of the market leaders in uniform fulfilment. We supply leisure and corporate uniforms to single and multi-site organisations throughout the UK, Europe, USA and the Middle-East. We also branched out to offer an amazingly vast range of promotional products and branded merchandise to all manner of industries too!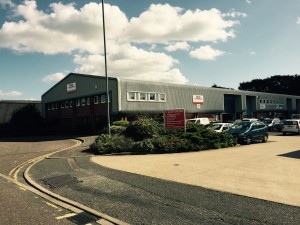 TMD now operates from an 8,500ft² production and warehouse facility based in Christchurch, Dorset and we work with many a local business too
"Our primary focus is customer care and building long-term relationships is fundamental to our business." says James "Many clients have been with us for over 20 years! With our own in-house embroidery facility we are able to provide a high quality, fast and efficient service. In addition we have the added benefit of manufacturing facilities worldwide so that our distribution networks are limitless. We will do our very best to provide you with a great service from your first contact right through to the delivery of your order."
James is still running the company with his brother Ed and 16 other members of the team and if you ever wondered what we all look like take a look at our new Meet the Team page here!
Please contact hello@taylormadedesigns.co.uk for further information or a quotation. We look forward to being of service to you soon.
Best Regards,
James, Ed and the team.
Taylor Made Designs are fully accredited with the Quality Management System ISO 9001:2008. You can view the certificate here: Taylor Made LRQA_ISO9001_16-1-18
Taylor Made Designs are fully committed to Quality Control via a Business Management System, you can view the statement here: Quality Policy – Updated August 2017
HISTORY
Since its establishment by James Taylor in 1993, Taylor Made Designs has become a market leader in the supply and uniform fulfilment to the leisure industry, with over 650 sites serviced daily across the UK, Europe, and the Middle East. We soon strengthened the team with the participation of James's brother, Edward, and have earned a reputation for professionalism, friendliness, trustworthiness and a willingness to go that extra mile, and pride ourselves on service and personal attention to detail. Customer care and the building of long-term relationships with single- and multi-site organisations has been fundamental to our success, through reducing administrative and logistical issues, while driving up buying power and thus reducing costs to the Client.
Our ISO9001 Quality Management accreditation demonstrates that our Clients can have confidence that Taylor Made Design will provide the very best, efficient and cost-effective service.
FROM SOURCE TO DOOR
Taylor Made Designs has developed a wide network of manufacturers and suppliers in the UK and overseas, which forms a very important 'backbone' of our business, with made-to-order garments making a large contribution. We use long-term partners from design, sourcing and manufacture, to quality control, freight management and customs procedures, always offering our Clients the very best quality, the most reliable production capacities, and the very best prices. Our freight forwarder has offices across the globe, and a 24/7 tracking facility gives our Clients peace of mind that shipments are well looked after and managed from door-to-door. Full logistics management and monitoring of stock is also an invaluable service for many of our Clients.
Every measure of quality control is taken at source including periodic sampling and on-site visits, and holding stock enables us to manage quality control procedures in-house and ensure fast delivery. Non-personalised stock can be delivered to any UK destination within 3 – 4 days, or any European destination within 5 – 9 days by courier. We are your 'one stop staff uniform supplier'.
Recommendations:
From Simon Hawtry-Coombs. Interlink Express.
We have used James and his team on numerous occasions, and his Company have always provided the best advise, cost solutions and quality products: in addition James is personable, great fun to work with and very, very committed to service excellence. I would not hesitate in recommending Taylor Made Designs; from our experience they have always delivered client expectation and more. James has also supported my own business and referred a number of new clients and opportunities, a rare breed indeed, networking and looking beyond the business transaction and adding value in true customer relationship management. A "World Class" operation and team. We look forward to working with James again.
Recommendation.
From Graeme Hinde. Founder, Leisure & Fitness Exchange.
James was one of the first Lfx sponsors and made incredible efforts to attend all of our events and meetings regardless of the 500+ mile round-trip to the North West or North East. James is a very hard working business owner, constantly sourcing the best deals and products around the world. If James is visiting manufacturers in the Far East he lets his clients know, just in case they need something new and unique and I believe that this makes him the ideal business development partner. James is also a very friendly, approachable chap and nothing is ever too much trouble. I would highly recommend him as a supplier and partner.
Recommendation.
From Barry Cronin. Executive Director at London Central YMCA.
James has provided quality uniform solutions over a number of years to the various organisations I have been involved with. I can recommend James and Taylor Made Designs without hesitation.
Recommendation.
From Dom Greenwood. Group Training Manager. The Energie Group.
James and his team are true professionals and on many occasions and for many leading fitness chains I have used James and his team for badges, uniform, branded items, promo items and bespoke design for a total re-brand. He works with integrity and his products are always of a great quality and more than anything he is a genuine guy. I would fully recommend Taylor Made Designs!
Recommendation.
From Jeremy Navrady. Marketing Manager. Horatio Myer & Co Ltd.
James has been working with me on the provision of promotional merchandise. Throughout, James has been on time always offering innovative ideas and giving great value for money in a very competitive sector. I therefore have no hesitation in recommending James as an excellent business partner.